.01
about us
Clover Equine is the ideal place to board your horses with top of the line stalls, large individual pens and even more room to roam during the day. My boarding facility is located on 5 acres and within riding distance of the beautiful Sonoran Desert Preserve. My name is Garrett Murphy and I am owner of Clover Equine, as well as, Clover Canine Training and Boarding. I can honestly say I love what I do, I have been around horses since I was a child and understand how they truly are family members and how important it is to trust the facility you choose to board them in.
Clover Equine is located on my property in Desert Hills, so you can rest assured knowing that either I or one of my team will be available for your horse at any time of day including Terry who has over 50 years of experience. I have a list of close equine veterinarians if need be and also hold vaccination clinics on the property. Storage of trailers can be arranged as well. I am really proud of where I live, the Sonoran Desert Preserve has an abundance of trails full of beauty and adventure for you and your horse.
Boarding
Each horse boarded at Clover Equine has a large individual enclosed stable as well as their own personal run. Every day horses are let out to roam if desired by owner and returned to their stall before evening meal.
Every owner may store their trailers on site.
Dogs are welcome and dog boarding is also available on site if needed.

Short-term boarding
Clover Equine offers overnight, weekly, and monthly horse boarding and trailer storage during your horses stay. Space for RV's, water and
electricity are also available for the convenience of travelers.
Location
Clover Equine is located in Desert Hills 10 minutes from I-17 and within riding distance of a network of trails in the Sonoran Desert Preserve and the Maricopa Trail. Conveniently situated in North Phoenix, near Cave Creek, Carefree and Anthem Areas.

Boarding Per month
$550/month
Each horse has an individual shaded stall (10x20 and 12x20 first come first serve) and a large personal run. Clover equine feeds either Bermuda or Alfalfa 2-3x/day depending on owner preference and will feed owner supplied supplements at no additional cost
Short-term boarding
$25/night - $150/week
All short-term boarding includes clean up and trailer storage
Self contained RV camping
$30/night
Trailer storage
$35/month
Trailers will be safely secured on gated property for owners convenience
Grooming
$15/ horse
Bathe and brush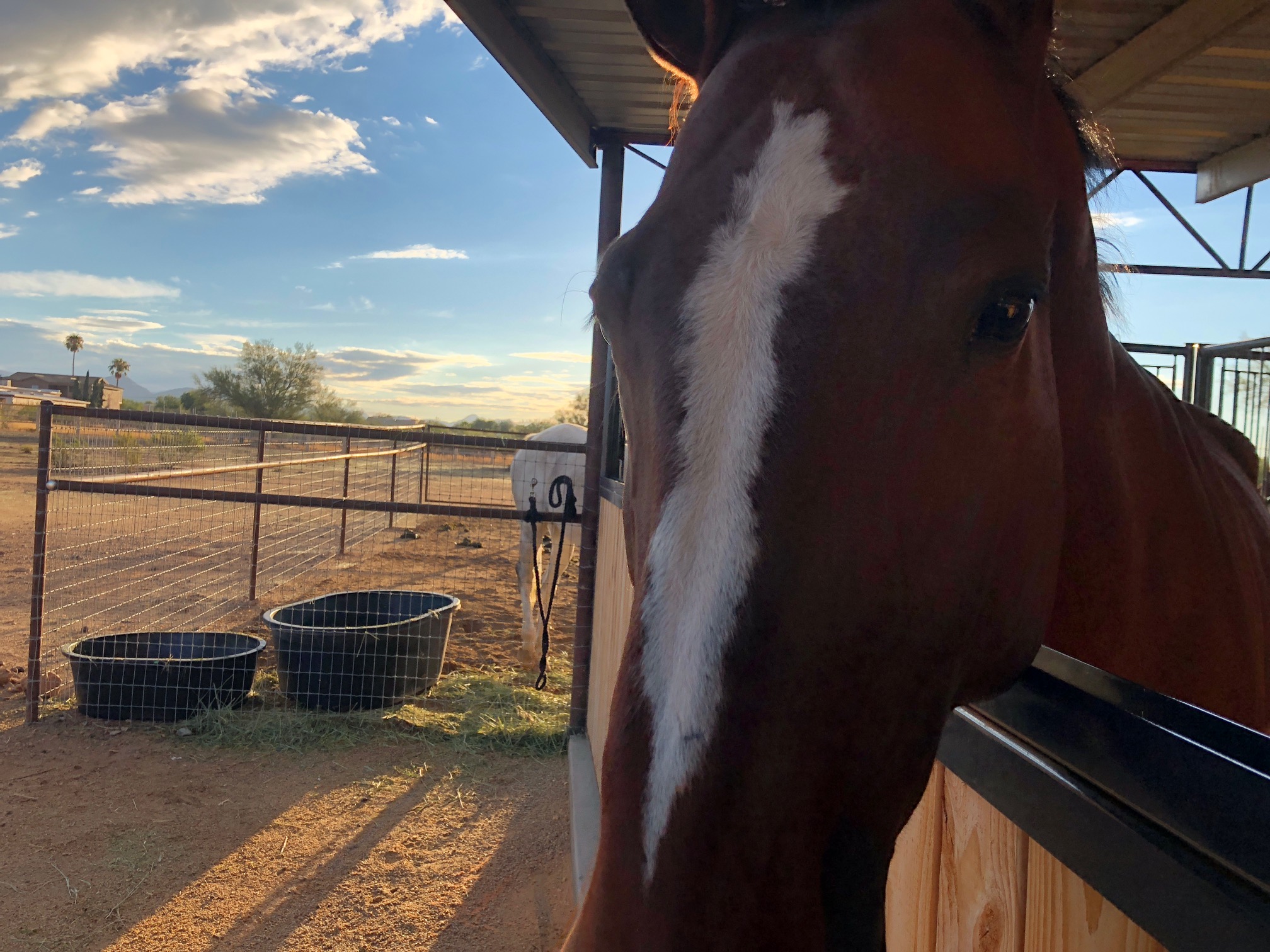 Please call the office at 602-526-5555 or cell at 602-819-4912.
You can also enter your information below and we will be happy to address any of your needs via email within one business day.
Have a great day!